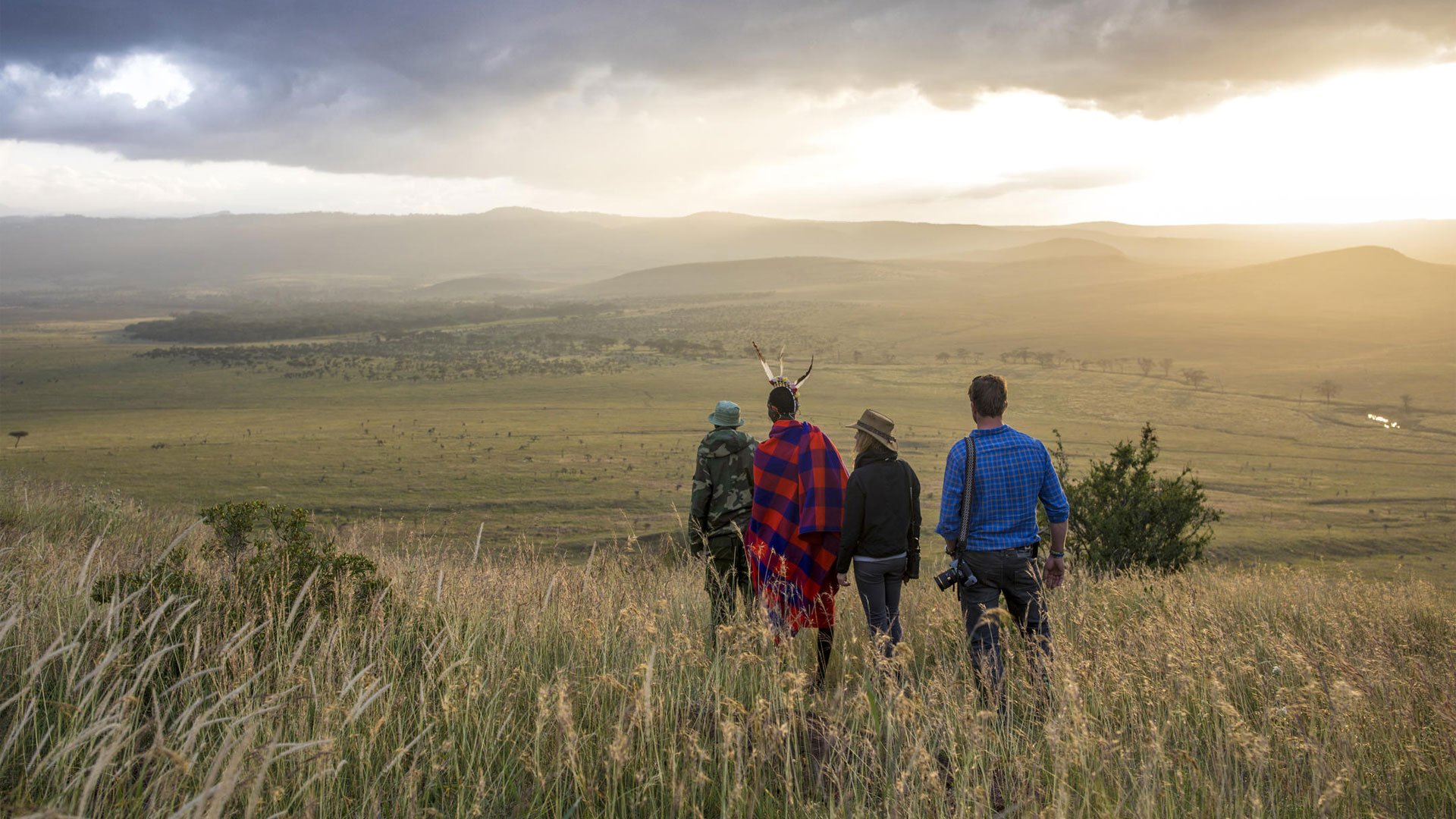 As a small and intimate family-owned safari lodge, Sirikoi offers unrivalled exclusivity and charm. The four luxury tents, Sirikoi Cottage and private Sirikoi House are perfectly positioned along the spring-fed Sirikoi stream, immersed in nature with wildlife all around.
Sirikoi resembles an eco-chic African home and while it offers a sure sense of luxury and a high level of service, it manages to be welcoming, comfortable and unpretentious. All the rooms are spacious and tastefully designed, with unique décor touches, a sitting area, big Victorian bathtubs, rain-showers, fireplaces and a private deck.
Surrounded by 68,000 acres of pure wilderness of the renowned World Heritage Site, Lewa Wildlife Conservancy, the location of the lodge is truly exceptional. With Kenya's arid North to one side, and the lush foothills of Mount Kenya on the other, Sirikoi enjoys a beautiful spring-like climate year-round.
Days are as action-packed or as rejuvenating as desired, and Sirikoi offers a range of unique and adventurous activities for all ages to experience and explore the wilderness and wildlife. Guests enjoy prime game viewing in the morning, evening and night game drives on Lewa Wildlife Conservancy in their own exclusive and open vehicle, or in a leather chair on the Sirikoi deck overlooking the busy waterhole and wildlife on the lawns.
Families of elephant have carved Sirikoi into their migratory routes and almost daily they can be seen just in front of the Sirikoi deck for hours at a time.
You will also enjoy incredible wildlife encounters on game drives in your own exclusive and open safari vehicles with their guide; on foot with a ranger on a bushwalk, from one of the Lewa hides watching the wildlife pass by, or in a leather chair on the Sirikoi deck overlooking the busy waterhole and wildlife on the lawns.
One of the joys of Sirikoi is the busy waterhole right in front of the main deck, making it possible to see an array of wildlife without even leaving the lodge. We call this "armchair game-viewing", and it is a defining feature of Sirikoi.
The 'farm-to-plate' dining experience at Sirikoi is exceptional. Meals at Sirikoi are colourful, fresh and unpretentious. All meals are served on the Sirikoi deck overlooking the Sirikoi waterhole. You will be delighted by the simple and elegant home-style cooking, and even more so when they see where most of the fresh produce comes from – the prolific organic vegetable garden. Dining out in the wilderness on bush meals and having sundowners are another favourite experience at Sirikoi.
Visiting the Sirikoi vegetable garden and taking a tour with George Kaberia, the head groundsman is an unexpected highlight for most guests. Learning from George and seeing first-hand what is involved in the organic farming process is fascinating and hugely rewarding.
With spring water feeding the garden, naturally rich soil, organic elephant-dung fertilizer made on site, and equatorial sunshine, the garden produces an impressive amount of fruits, vegetables and herbs – over 80 in fact – all year round.
Sirikoi also offers a beautiful infinity pool for you to relax after your activities, unless you prefer unwinding with a massage or browsing through the Sirikoi gift shop.
INCLUDES
Includes full-board accommodation, bush meals, sundowner and picnic excursions, as well as soft drinks, beers house wines and selected house spirits.
EXCLUDES
Gratuities.
International flights.
Comprehensive travel insurance.
Items not mentioned under inclusions.
EXPERIENCES
Day and night game drives.
Bushwalks.
Visit the Lewa Tracker Dog Project.
Children of all ages are welcome 
I WANT TO BOOK! HERE ARE MY DETAILS: